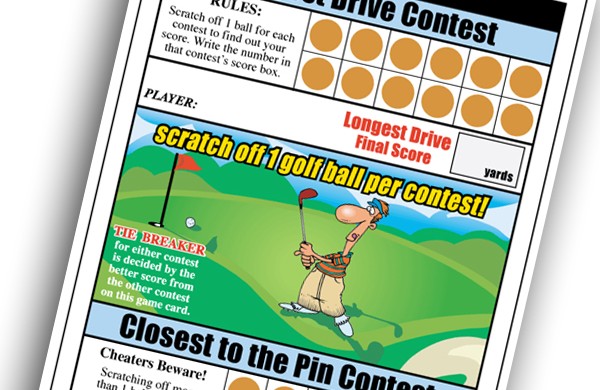 30+ years in the golf industry and I continue to wonder why golf outings always have these two lame games at every single event on the planet!
If you think about it, the "long drive" and the "closest to the pin" contests for either men or women both require skill and only reward the same 3 players year after year. What is the rest of your field supposed to do when their average tee shot is 180 yards? Clearly they have no chance to be competitive and therefor are not having any fun at these two staples of golf outings all across the country. To say nothing of the fact that you have to buy twice the trophies or secure twice the prizes to cover both the men's and women's divisions. It is COMPLETELY counterproductive to fun and to running a profitable golf outing.
We have fixed all of that and done so for you in a way that is new, fun, exciting and profitable beyond your wildest expectations rain or shine!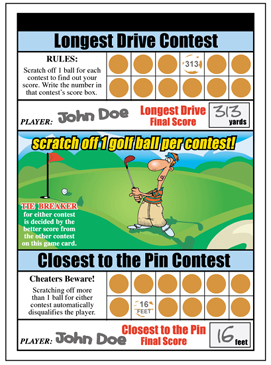 Our simple Scratch Card has both games on one single card.
Your players get to choose one of 12 scratch off dots at the top of the card to determine the "longest drive" winner and then go to the bottom of the card and choose one of the 12 scratch off dots to reveal a closest to the pin winner for the day. No clubs, no balls, no tees, no metal signs or talent needed to win. Every single player has a very equal chance to win and all players are now having fun and spending money toward your cause for the day!
But wait, there's more…. The back of the card is blank.  Like our LasVegas Scratch Cards, we will gladly custom print the backs of these cards with your sponsor's names or logos for you. You simply sell the space on the back of the cards, email us the name or logo ( in .jpg format ) and we take care of the rest.
BENEFITS TO YOU:
1. Your sponsors clearly pay you more than the actual cards cost you. You have actually made money on these two games before your outing ever starts thanks to your sponsors.
2. Your golfers get to participate in something new, fun and exciting.
3. Every single golfer has an equal chance to win these games for the first time ever.
4. Golfers will buy many more than one card.
5. You can play this game during rain delays or for other fundraisers such as church groups, sports booster events etc. etc. etc.
6. No equipment or talent required to play.
7. Sell packs of these cards in your raffle or silent auction!
8. No on-course volunteers needed to verify games.
Pricing –
50 cards – $2.00 each
100 cards – $1.75 each
150 cards – $1.50 each
200 cards – $1.25 each
250+ cards – $1.00 each
Cards custom printed with your sponsor logos or names – add .35 per card
Since there are TWO separate games being played on each card, we recommend that you sell the cards at registration for $10 each or 3 for $20
You can see that the profit potential is staggering.