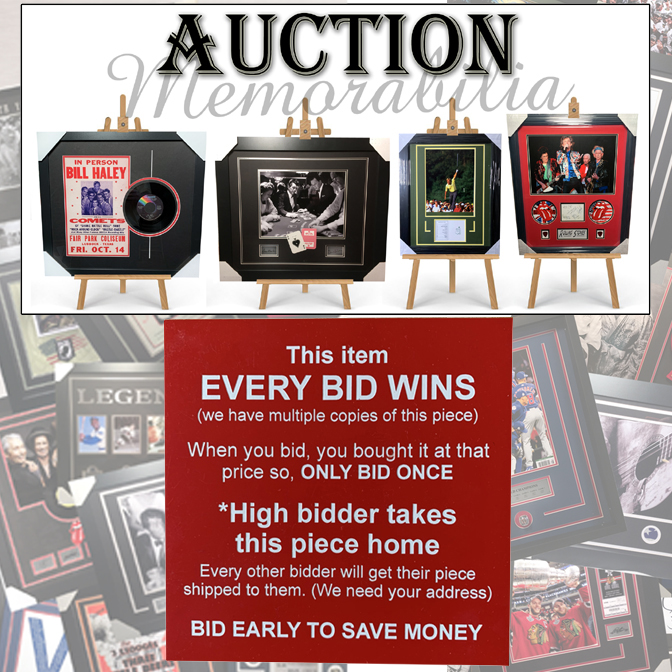 OUR Silent or Live Auction items on consignment… with a GREAT twist.
We do everything for you.
Exciting framed and unframed pieces that are sure to please.
Sports, Music, History, Hollywood and more.
We supply the items, clipboards, bid sheets and we set it all up for you.
After your event, we hand you all of your winning bid sheets.
We clean up any unsold pieces.
All you do is take everyone's money for their winning items.
Golf Outings, Gala's, Wine Tastings, School, Church and more…
DON'T FORGET VIRTUAL FUNDRAISERS.
Unlike other consignment items you have seen, we set the minimum bid prices at 25% over our cost so you are guaranteed to make at least 25% on every item with a bid on it! You also keep 100% of every bid that is over the minimum bid and you don't have to pack anything up and send it back! We take care of everything.
But here's the twist…
Like that big red card says above, most of our pieces are available for multiple winners!
That means that items with the red card on them at your event are  EVERY BID WINS items.
The person with the highest bid takes the item home with them and we ship duplicate items to every other bidder at our expense!
This is something that you cannot do with that basket or gift card as you only have one. This is truly, unlimited money for you!
THIS IS ALSO A FREE SERVICE FOR YOU.
We will also supply your online auctions for you. We send you images, descriptions and minimum bid amounts. We ship to all of your winners at our expense!
This means that you do nothing but collect their money.
Here are just a few samples for you. Minimum bid prices shown may vary.