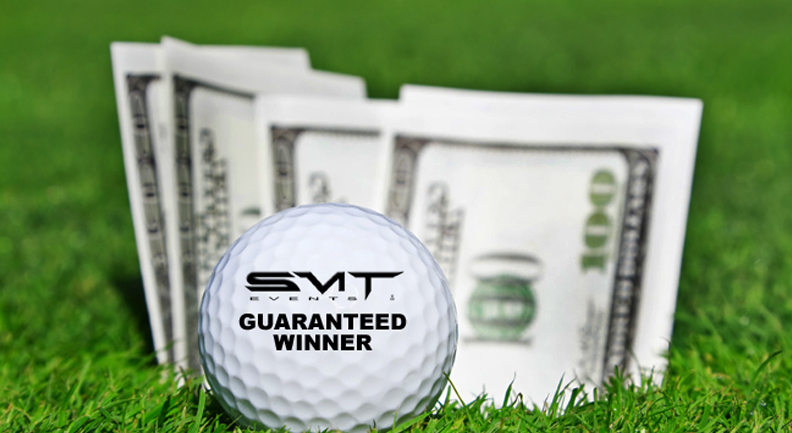 A very simple but crazy fun putting contest that you run before the start of your golf outing.
Players, guests, sponsors, volunteers and anyone who can wield a putter takes a putt (or more) at qualifying by being one of the top 3 who end up Closest To The Hole on the putting green.
Qualifying putts should be 20 to 25 feet and have a bit of break to them to keep players trying again and again.
The top 3 putters who end up closest to the hole come right back before the shotgun start of your golf outing to take one putt each at a 50 foot putt. Everyone will be right there watching.
Only 3 putts, (one putt each) and if someone makes it, they win $500 from SMT Events.
Better yet, the best of finalist's putts (closest to the cup) will win your choice of …
A 3 day/ 2 night stay for two people, anywhere they would like to stay in Las Vegas or Reno (airfare not included)
– or –
A $100 hotel voucher good at ANY hotel in the world.
WHAT YOU SHOULD DO…
1. Sell putting contest to a sponsor.
2. Sell the guaranteed prize of the Vegas/Reno stay – or – the $100 Hotel Voucher to a sponsor.
3. Add at least $10 to the player's cost to play in your golf outing and the all take their qualifying putt for free.
4. Or, charge players $10 per qualifying putt and they can try to qualify as many times as they like. (unless you hate making money)
3 PLAYERS PUTT FOR $500 AND YOUR CHOICE OF A GUARANTEED PRIZE COMES WITH PUTTING CONTEST SIGN only $375