Hole In One Insurance Packages
Clearly you know by now that SMT Events & Fundraising doesn't do anything in a traditional manner.
For all of your golf Hole In One Insurance needs, we will follow suit. This is the most remarkable and unique insurance program available.
The first part of our Hole In One Insurance page will show you strictly standard insurance prices. You will note that there are several player totals on the left column, across the top are the insured amounts for ONE HOLE and the red letters tell you what your insurance will cost for your event.
So, 100 golfers needing a $5,000 hole in one insurance plan will cost you only $130.
As always, we STRONGLY suggest that you sell the Hole In One "hole" to as many sponsors as you can, but also the $5,000 prize. If you need all 4 of the Par 3's on the course covered with "lesser prizes" we can get you a quote on that as well and it will be a lower price than you expect. If you need Tee Signage, we offer that as well.
But wait… We also offer a mind blowing version of the traditional insurance that we call Value Added Insurance. You can see that below…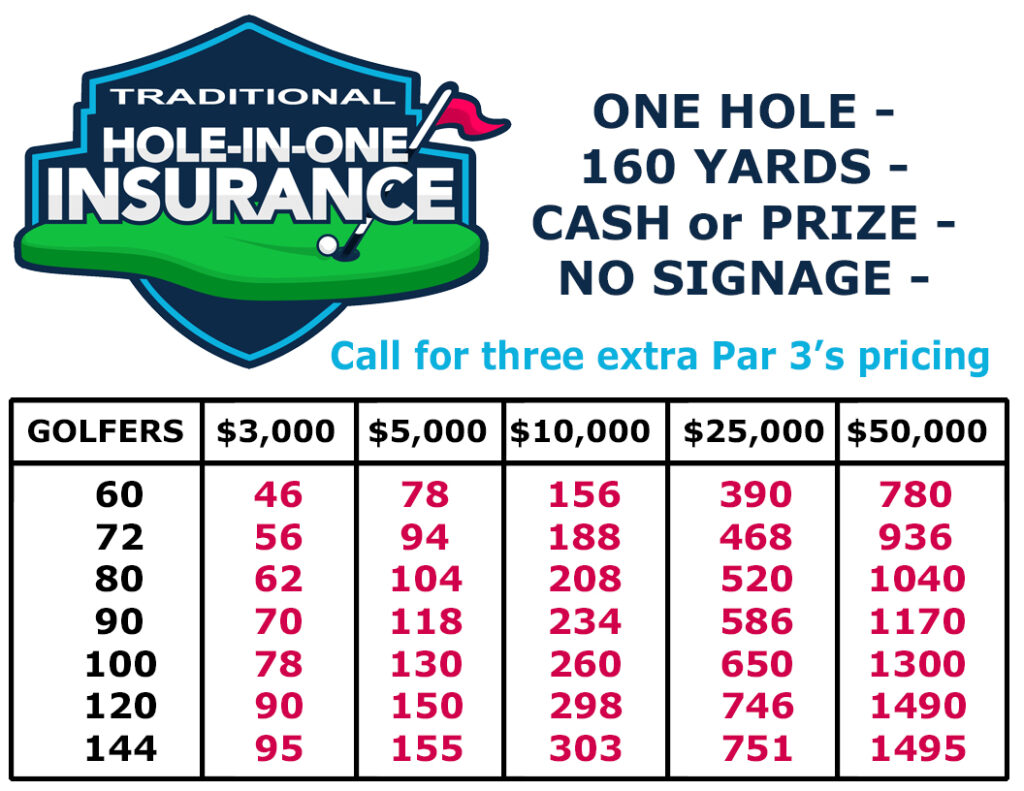 Value Added Hole In One Insurance
Always wanting to give the event and your golfers more VALUE has helped us generate this wildly popular version of the industry standard…
Insurance for every hole in your golf outing and the prizes and signage are included. We also wanted to make sure that EVERYONE at your golf outing leaves with a prize package, regardless if a hole in one was made or not.
So, you can give all your golfers, your staff, your volunteers and even the golf course chef a gift package valued over $400. that we included with your insurance package.