SMT Events and Fundraising Mystery Boxes make more money!
If you are looking for a GREAT way to raise money for your events, try the SMT Events Mystery Boxes. (Autographed Blackhawks hockey piece shown above are only $34.99 each)
EVERY SINGLE Mystery Box contains an authenticated autograph of top sports heroes. Hockey, Baseball, Football, even Celebrities from top movies.
ADD SOME EXCITEMENT TO YOUR GIFTS & PRIZES!
Choose your Mystery Box items. You can get your Mystery Boxes filled with anything you want or choose from what we have.
Autographed photos, baseballs, helmets, movie posters, mini helmets, footballs, hockey pucks, baseball bats and more. EVERY SINGLE Mystery Box contains an autographed piece for your guest or supporter.
1. Use them as player participation gifts. GET A SPONSOR OR TWO to cover the cost and present every one of your supporters with an exciting Authenticated Autographed piece. They never know what they got until they open it up. Much better than goody bags or donated stuff they don't want or can't use.
2. Buy several for your Live Auction or for Raffle Prizes. Auction prices go sky high for something they can't see until they open it up.
3. For a small extra fee we can even custom label your Mystery Boxes for your event with Mystery Box Sponsor Logo or Event logos.
4. Combine these autographed 8×10's with our new Custom Framing offer to both help your guests get their winning pieces framed for less money but also get 20% of all frames sent right back to your cause!!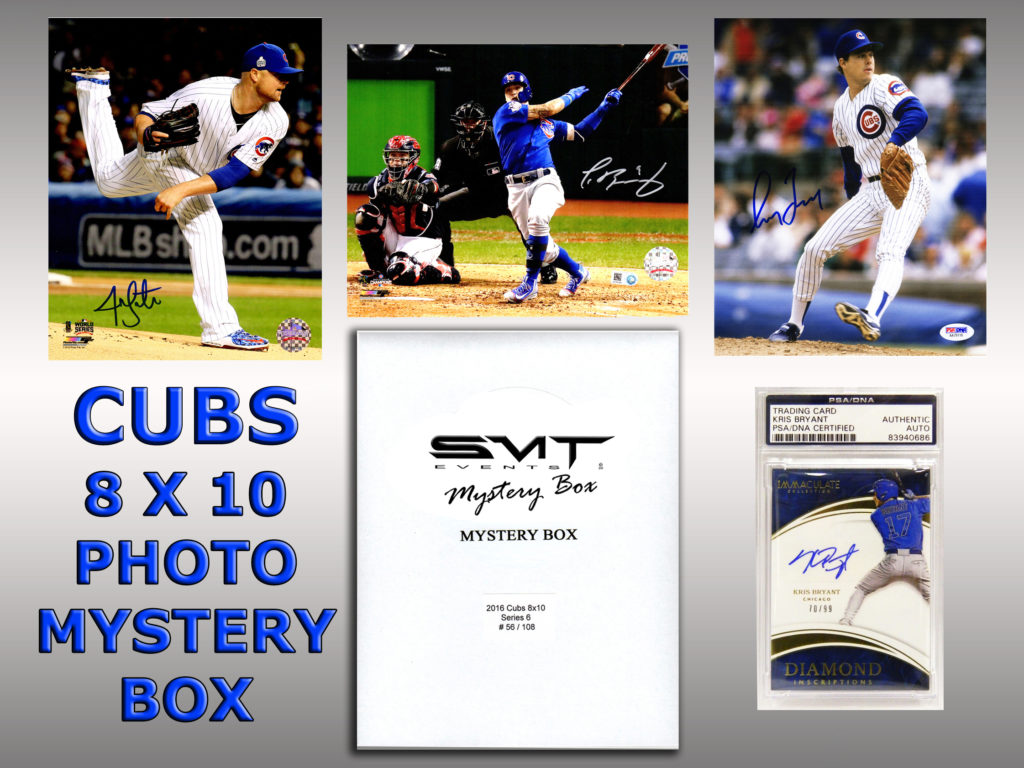 Cubs Mystery box shown are only $54.99 each.