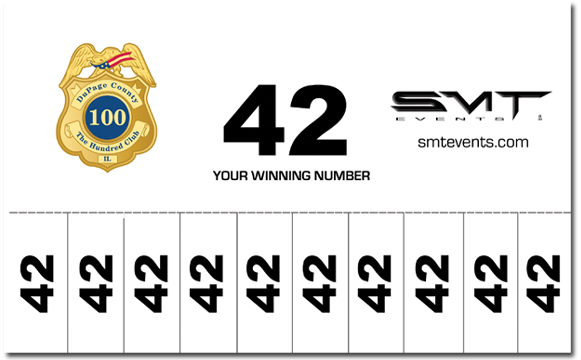 RAFFLE CARD
You have to admit that the most time consuming part of the event day is giving out the raffle prizes during dinner.
How many times do you call out over the microphone…"yellow ticket, 677593…. that's yellow 593"?
The entire room looks around. An early call of "DRAW AGAIN" rings out as you wait and wait and wait for the person with that yellow ticket to go through 40 of the tickets they have in front of them and also the 5 tickets their buddy gave them because he couldn't stay for the dinner. It's a full on disaster!
The light is always dim, people start looking for their glasses to help read those very small numbers…. a nightmare.
Well, no longer!
Our Raffle Card will immediately fix that problem and help you raise more money for ALL of your fundraisers.
ONE RAFFLE CARD CARD – 5″x7″ printed with a single number in bold black with 10 matching numbers that your guests simply tear off and out into whatever basket they most want to win.
When it comes time for calling winning raffle tickets, you pull from the basket or bag and read out one single number.
"The winner is 42".
Your guests don't need their glasses, better lighting or to rifle through an arms length of tickets to find it as they keep the half of the Raffle Card with their BIG winning number staring right at them.
Amazing!
The good part is that you can also sell the Raffle Cards to sponsors. We print your custom cards for your event, complete with custom sponsor logos right where everyone can see them.
Since there are really 10 tickets per Raffle Card, we suggest that you simply sell each Raffle Card for $20 (or more) and get ready to enjoy your freedom again.
All this, custom Raffle Cards, printing and a happier smoother running event by far for only $2 per card.