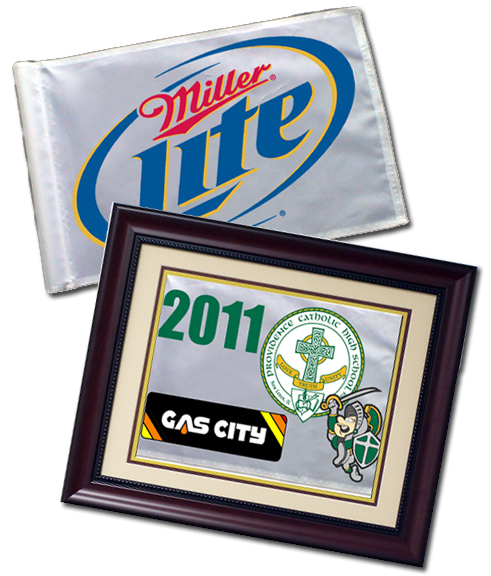 Custom flags for each hole on the course!
Quite honestly, sponsors are tired of the same old offerings all summer long.
SMT Golf Outing Services is proud to present custom flags for your next event. These custom golf flags are the perfect new addition to your next golf outing in several ways.
1. We will create a custom silkscreened hole flag for each of your sponsors which gives you the opportunity to sell both the tee sign as well as the green either to the same sponsor or to two separate sponsors.
2. These regulation hole flags are easy to install on all flagsticks the morning of your event with the hardware already being used at the course.
3. After your golf outing, you can pop these flags off, and drop them in a standard frame to present to your individual hole sponsors as unique and wonderful reminder gifts. You can purchase standard frames at Michaels or Hobby Lobby always on sale for under $30 each.
4. Celebrity golf outings should use these custom flags as autograph pieces and auction each flag off at the dinner/award ceremonies at the end of the day for an even greater revenue source.
*PRICING… (9 Flags minimum per order)
Cost per flag – $37
if you order 18 custom flags, price drops to $32 per flag
SUGGESTION…
Sell custom flags to sponsors at $500 per hole or bundle tee and green sponsorship for $700
* 3 week lead time required, HIGH RESOLUTION (300 dpi) .JPG format logo emailed to us to begin process. Please note that we need HIGH RESOLUTION company logo for best results.

**Send us the outing logo and the sponsor logo and let us create a special flag for you at no additional cost. We are happy to help make your outing and your sponsor something special.