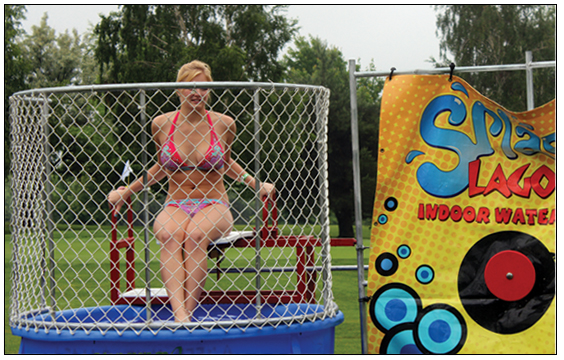 The Dunk Tank from SMT Events brings back great memories at your State Fair or your local carnival.
Who doesn't love tossing balls at the target while getting razzed by the seated guest who is destined to end up under water multiple times during the day?
Let us bring that same fun & excitement to all ages at your golf outing or fundraiser.
We do all the work, Setup, filling the tank and removal after your event concludes.
Well, we don't supply the bathing suit clad young lady, charity or company executive to get dunked (or any other person for that matter).
Your Dunk Tank comes complete and ready to earn your group a ton of money and even more laughs.
The photo opportunities for Social Media alone will be priceless until you realize that you made a water bucket full of cash at the end of the day.
We suggest that you sell this to a sponsor or several sponsors. You might also ask a sponsor to make a nice donation for each time the guest ends up getting dunked by your ball throwing supporters.
Call for pricing 888-693-4001 x 1